About Us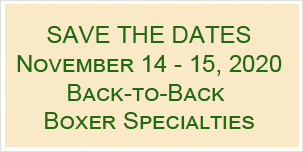 The Orange Coast Boxer Club is an AKC accredited organization for Boxer breeders, dog owners and aficionados. While primarily located in southern California we welcome members from all over.
Our specialty originally planned for April 2020 was cancelled due to COVID-19, but we have joined forces with the Boxer Club of Arizona to host a two day, two specialties per day dog show in Peoria Arizona, November 14 and 15, 2020. Saturday will be hosted by the Boxer Club of Arizona and Sunday will be hosted by us, the Orange Coast Boxer Club.
We invite anyone interested in learning more about our organization to explore this website and contact us with any questions. If you would like to join our club, attend one of our meetings or participate at one of our events, please complete the form on the Contact Us page.