Nov 14-15, 2020 Back-To-Back Boxer Specialties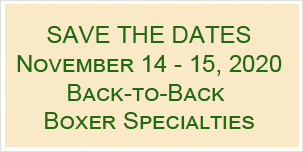 We have joined forces with the Boxer Club of Arizona to host a two day, two specialties per day dog show in Peoria Arizona, November 14 and 15, 2020. Saturday will be hosted by the Boxer Club of Arizona and Sunday will be hosted by us, the Orange Coast Boxer Club.
The premium list and entries will be available shortly. Please check back here or visit Infodog.com and search for shows in Arizona.
At Saturday's show we have great trophys and prizes lined up. A special thank-you to Irondale Boxers and Desert Winds Kennel for their contributions. We are also expecting to have a nice silent auction. We look forward to seeing you there.
If you have questions or want additional information before it is posted here and on Infodog, please use the form on our Contact Us page.
Online Registration Is Now OPEN!


2021 Boxer Specialty
We have begun planning our next boxer specialty for Spring 2021. Please check back here for more information as it becomes available.